iTrampoline iPhone App
Atlantic trampolines have just released a fantastic new free iPhone app that monitors your bouncing to show you how high you bounce on your trampoline! While it isn't aimed at competitive training, it is a fun app that encourages you to use your garden trampoline for fitness training.
Measure how high you have bounced against landmarks and calculate how many calories you have burned off!
Find out more about the trampolining app ...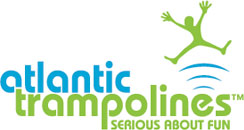 This innovative application from Atlantic Trampolines makes use the for the inbuilt accelerometer technology within the iPhone which enables the app to count your bounces on the trampoline, the cumulative height you have bounced and, after entering your weight, the calories used in a trampoline session. The phone can be held in the hand whilst bouncing however it is safer and easier to use an iPhone armband which is available to buy from Atlantic Trampolines. The app is available to download free from iTunes, just click the link above to find out more.
Atlantic trampolines sponsor Trampolining-Online.co.uk to help us provide facilities for UK trampoline clubs for FREE!
Please support our sponsors by clicking on their links.